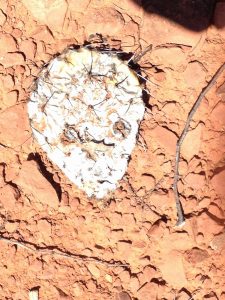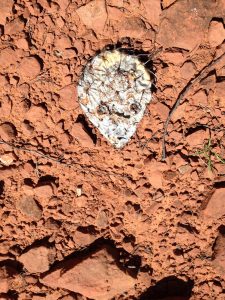 The Alien in the Rocks
This picture was captured in the red rocks of Sedona.  We were on a hike a came across an old cactus ear. It was somewhat beat up and I immediately saw an alien. I was able to nab a few shots before my good ol' camera (the infamous Iphone) died. Really take a moment and see what you see.
Sedona is known for it vortices and abnormal sitings. Funny to find an alien in the rocks, huh?
A little information on Sedona. The majestic place this photo was captured.
Sedona is a town in Arizona with a population of almost 15,000 people.  It is a magical place. It is surrounded by large red rock formations, Pine Forests, Oak Creek, Vortexes, and earth conscious, new age residents. Long ago native tribes regarded Sedona is very sacred.
It is a great place to capture beautiful scenery, landscapes and crystal readings. People interested in art, spirituality, healing, and energy travel long distances to visit Sedona and the vortexes it houses (charged energy centers). It is a place we visit often for it's peaceful beauty and healing nature.
You may find that many of our photos have been and will be taken in Sedona. If you have yet to visit, it is a place we recommend to make a point to experience.