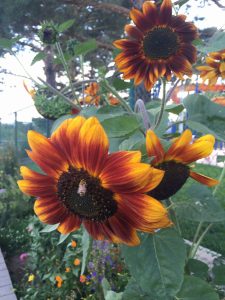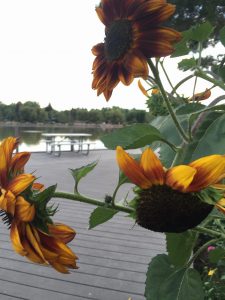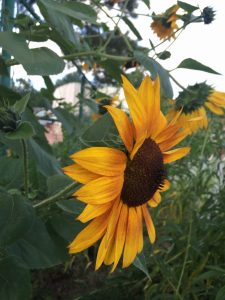 Nature's Flowers
There is something about sunflowers. I have always been a fan of them, and they are one of my favorite flowers.  I came across some with a burnt orange center. I snapped a few quick pictures, as I was walking my dogs and they were wanting to chase squirrels. This made holding my Iphone and taking pictures a little difficult. I caught three different shots. It wasn't wasn't until later when I was looking at the shots I got, that I realized the bee in the middle of the first sun burnt sunflower picture. How I didn't see him at the time, I'm not sure (probably because those dogs I had with me).
These type of shots I absolutely love!  You take a picture and get more than you expected upon inspection. These photos are unfiltered and simply exactly as I took them. Now I can review them and think about what I can do differently next time, to improve the shot, yet still keep it in raw form.
I love the many ways you can enhance photography today……however, yes I have a however…..photography in the raw is true art. Angles are a big part of it too. What can be captured without special effects or lens'? Maybe I am still super amateur, or maybe this will just become my style, but I like realness.
I love a face untainted by make up. Make up is paint and can too be beautiful, but something in it's pure state is beautiful.  It is natural.  It is nature.